Wavin: Online CEO Dialogues
Over the last 3 years MeyerMonitor has supported Wavin, a leading supplier of plastic pipe systems and solutions in Europe, to build a strategic dialogue platform around key strategic themes and company-wide initiatives.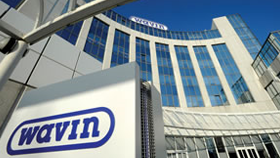 The purpose of this strategic dialogue platform is to use collective knowledge to solve and improve organizational challenges to accelerate the 2015 strategy execution. The Wavin 2015 Strategy consists of 5 pillars with specific key priorities and targets.
Among other things, MeyerMonitor facilitated multiple online CEO dialogue sessions. Each session, the Wavin CEO challenged on average 100 employees to share their knowledge, local expertise, concerns and ideas on how to accelerate strategy execution.