Meyn: Increased Strategy Awareness through continuous strategic dialogue
Meyn is the global number one poultry processing solution provider. One of the key improvement points in Meyn´s 2010 engagement survey was to communicate more and to give direction as to where the company was going. As a consequence, Meyn's top management decided to go on a Vision 2015 roadshow in 2011 among all 1000 employees worldwide. MeyerMonitor partnered to co-design & create this roadshow.
The results of our partnership were substantial: strategy awareness by Meyn management and key people – the top 150 - measured at the beginning and at the end of the roadshow increased by 20%. A striking comments from one manager was "you can't go anywhere without hearing about the vision because everybody talks about it all the time".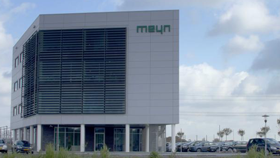 The process evoked enormous passion and energy among participants. In line with the assumption that strategically aware organizations show better bottom-line performances, Meyn outperformed its targets in 2011!
MeyerMonitor assisted Meyn in three major steps throughout 2011:

1. Condensing strategic data and documents into a transferable and inspiring story for everyone - including the almost 50% blue collar workers – the Vision 2015 booklet.
2. Co-creation of a process through which more than 90% of all Meyn employees were personally involved with the Vision 2015 document; part of this process were 6 off-sites with 150 managers and and key people, together with various follow-up calls and online platforms - the Vision 2015 roadshow.
3. Designing and facilitating the dialogues during the roadshow interventions to ensure that the groups of 30 to 40 people would interact constructively and develop their personal strategy pitch.