Step 1:

Make strategy transferable
Step 1:

Make strategy transferable
Step 2:

Activate leading coalition
Step 2:

Activate leading coalition
Step 3:

Measure strategic non-financials
Step 3:

Measure strategic non-financials
Step 4:

Turn data into dialogue
Step 4:

Turn data into dialogue
Step 5:

Make dialogue continuous
Step 5:

Make dialogue continuous
Step 1:

Make strategy transferable
Step 1:

Make strategy transferable
Step 2:

Activate leading coalition
Step 2:

Activate leading coalition
Step 3:

Measure strategic non-financials
Step 3:

Measure strategic non-financials
Step 4:

Turn data into dialogue
Step 4:

Turn data into dialogue
Step 5:

Make dialogue continuous
Step 5:

Make dialogue continuous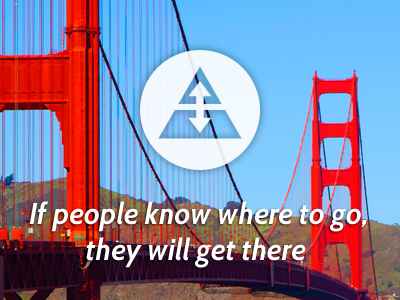 Make strategy transferable
Strategy documents come in thick piles of paper with lots of data. Although they are complete and scientifically correct, 70 pages or 130 slides are not uncommon when organizations start up their strategy execution. In our experience, strategy documents of more than 10 pages are not effectively transferable to people in the organization. There is an "inspiration gap" between strategy formulation and strategy execution. MeyerMonitor closes this gap by reshaping your strategy towards its essence. When making a strategy transferable, the use of symbols, stories, images/movies is key. After creating a transferable strategy, MeyerMonitor helps to clarify leadership behavior needed to activate the strategy, to make it understandable and inspiring.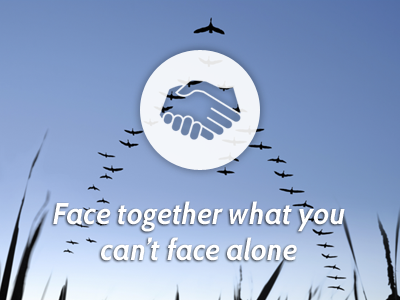 Activate leading coalition
Getting the strategy into the hearts and minds of people is one of the biggest challenges. MeyerMonitor starts strategy deployment by engaging the leading coalition: top management, high potentials and key people. The leading coalition needs to be engaged as ambassadors to communicate and translate the strategy for the rest of the organization. MeyerMonitor creates leadership and dialogue events to activate and inspire the leading coalition, e.g. strategy off-sites, road shows, online dialogue sessions. These events result in a clear roadmap, in assignments and toolkits for the strategy ambassadors. Activating a leading coalition is a continuous process, the leading coalition needs to be addressed regularly during the year in a continuous strategy engagement cycle.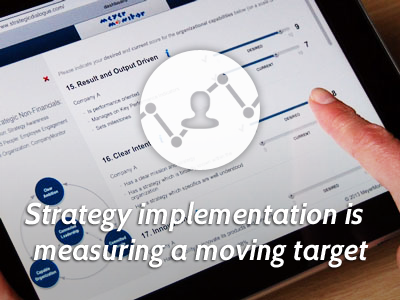 Measure strategic non-financials
Is your organization capable of realizing the strategy? Are your people up for the challenge? Are priorities fully aligned throughout the organization? Insight into the strategic non-financial success factors of your organization is critical for successfully deploying your strategy. MeyerMonitor's experience shows strategically aware, committed and capable people are the foundation for sustainable success. Measuring these critical capabilities on both current perception and strategic importance enables leadership to measure and manage a moving target. We create a blueprint of your organization to manage alignment and the need for change, including fast, easy to use and clear insights into people's perceptions around strategic goals and their willingness and ability to go the extra mile.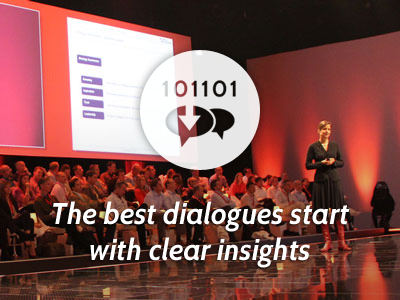 Turn data into dialogue
Organizations typically underuse the available data when it comes to creating fact-based dialogues, and struggle to activate these dialogues while they are lost in spreadsheets and piles of data. Data should be a starting point, a way to create focus and priorities, not a goal in itself. MeyerMonitor believes data needs to be to the point, easy to understand and above all explanatory. Data always deserve a dialogue, but the data need to be shaped accordingly. To activate, fuel and make strategic dialogue more effective within organizations MeyerMonitor uses a combination of live and online dialogue events. We continuously turn data into dialogue and support organizations in defining supplemental actions critical to realizing the strategy.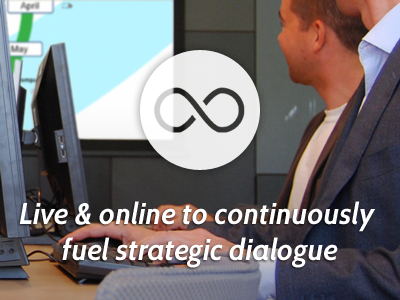 Make dialogue continuous
Communication within organizations is often top-down and ad hoc. It lacks structure, cohesion and dialogue. Key in turning strategy into action is integrating strategy communication with already existing cycles, e.g. HR, Finance & Control, Communication and Strategy. These target-setting processes are often seen as a spreadsheet exercise instead of something that links resources to strategic priorities. The key question for each employee should be "How can I contribute to our strategic objectives?" MeyerMonitor helps to create a lean and yet continuous process of collective strategy engagement initiatives throughout the year. This "strategic clock" combines and connects live and online events to continuously activate the organization around strategic themes, thereby harvesting success, sharing best practices and making the strategy actionable.